Meet Dr. Brandon Reynolds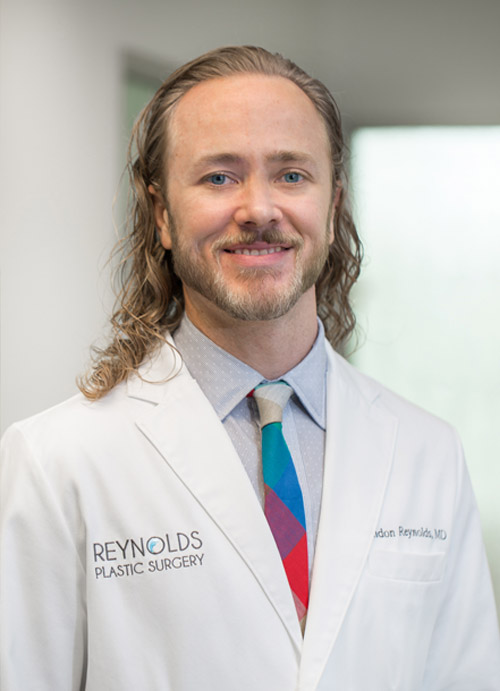 Dr. Brandon Reynolds is a Board Certified Plastic Surgeon, specializing in cosmetic and reconstructive plastic surgery. His wide range of expertise, complimented with his artistic focus, allows him to restore and rebuild what's been lost and enhance our patients' sense of self and well-being, while maintaining their natural beauty.
As a 3rd generation Las Vegas native, Dr. Brandon Reynolds is proud to be able to work and serve his hometown community. He trained in a prestigious 6-year integrated plastic surgery program at Penn State following completion of medical school at the University of Iowa.
Dr. Brandon Reynolds is known throughout the Las Vegas community for providing exceptional patient care and is honored to have received Vitals awards as a Top 10 Doctor (2014) and Patients Choice (2013) as well as the American Institute of Plastic Surgeons award as a 10 Best Plastic Surgeon in Nevada (2017).
Board Certified Plastic Surgeon, Dr. Brandon Reynolds, is passionate about giving back to the community that raised him. His desire to help others has taken him around the world to the Philippines, India and Peru all as part of medical mission trips. He served as a Reagan Fellow for Operation Smile, where he worked with children, reconstructing cleft lips and palates.
Outside of practicing as a Board Certified Plastic Surgeon, Dr. Brandon Reynolds and his wife, Annie, are very busy with four girls. Together, they enjoy spending time outdoors, climbing, hiking, water sports at Lake Mead, and volunteering in the community with their church.

Start your journey today.
---
We believe that all of our patients — women and men — are on a similar journey; to look and feel their best, while living their healthiest and most youthful life. At Nevada Plastic Surgery, Dr. Reynolds, Dr. Spann, and our team are standing by to learn more about your unique goals, aspirations and expectations. Contact us today to learn more, or to schedule a one-on-one consultation.
Our Commitment
Thank you for visiting Nevada Plastic Surgery. Our commitment to our patients is based on a foundation of understanding, caring, and compassion. We know that each and every one of our patients is facing their own unique struggle — their own challenges. With a passion for restorative surgery and healthcare, Dr. Brandon Reynolds and Dr. Martin Spann have devoted much of their surgical careers to helping their patients rebuild, both physically and emotionally. We're excited to hear your story, and we can't wait to help you reach your goals.
Navigate
To get started, click on a procedure or resource below to learn more about Nevada Plastic Surgery: